We live today in the rapidly progressing era of Space Renaissance that is ushered in by groundbreaking technological advancements primarily brought in by the disruptive and unconventional thinking of the commercial space sector. This NewSpace age is reshaping life on this planet and INNOSPACE is paving the way
WHO WE ARE
INNOSPACE is an aerospace / defense manufacturing & engineering service providing corporation headquartered in South Korea. As a world leader in hybrid rocket technology, we are developing hybrid rocket powered smallsat launchers to provide LOW-COST, LOW-LATENCY, eco-friendly and reliable launch services in today's rapidly expanding smallsat market.
OUR MISSION
INNOSPACE aspires to bring cutting-edge innovations to help actualize the space ambitions of today by providing easy, fast, affordable, and reliable access to space in the gridlocked and expensive smallsat launch service market.
MILESTONES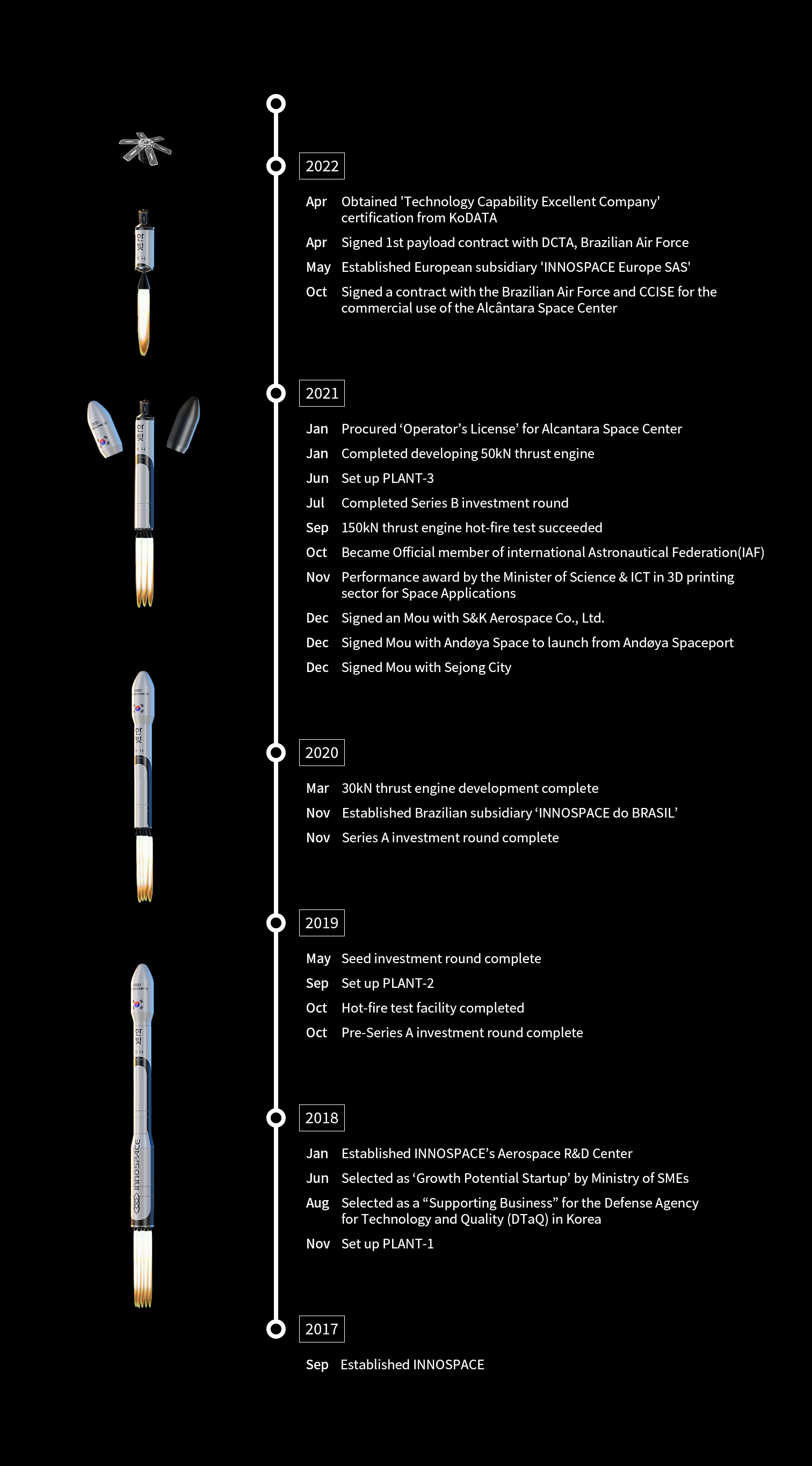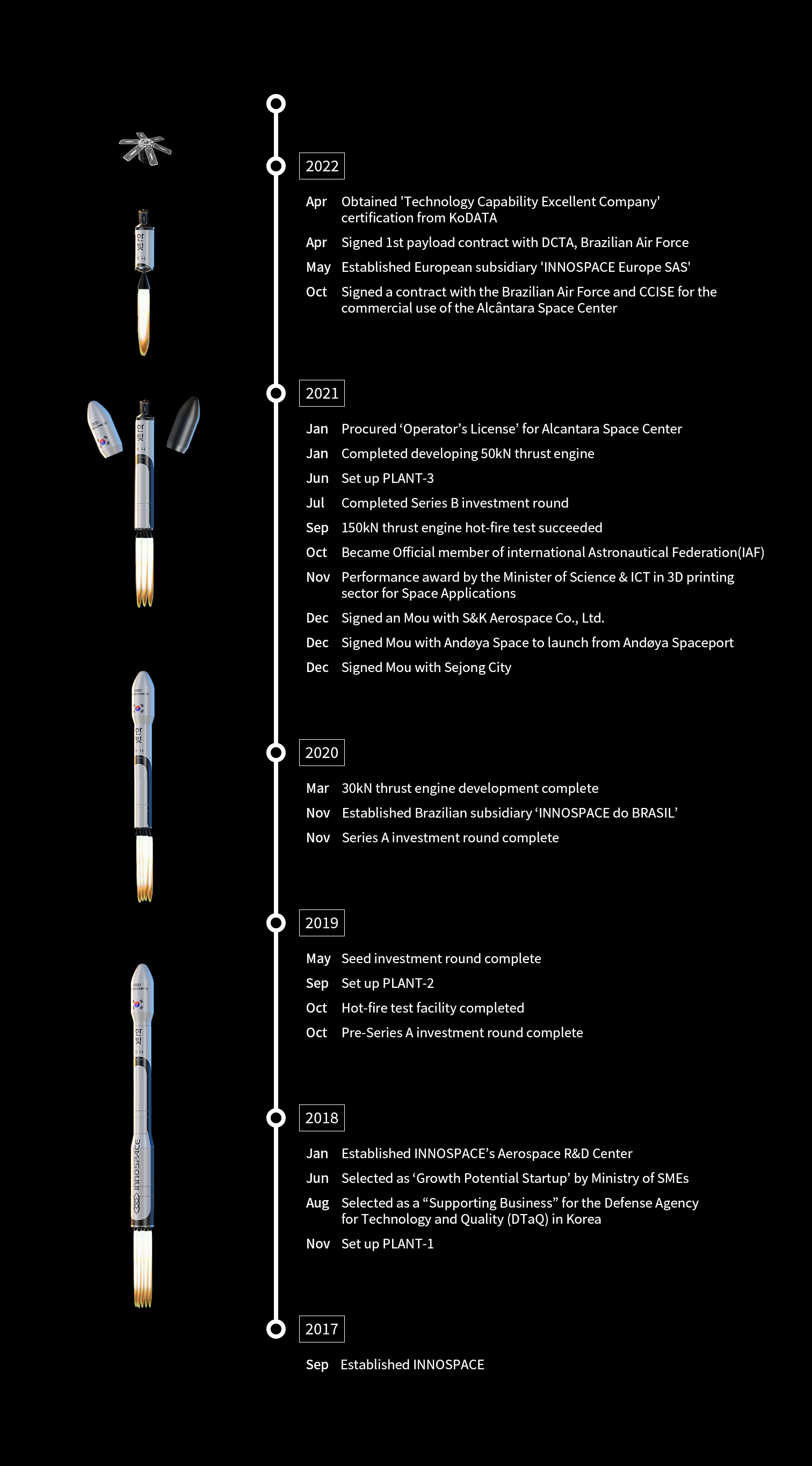 INFRASTRUCTURE
Located in the heart of South Korea, INNOSPACE is an Aerospace manufacturing & Aerospace engineering service corporation.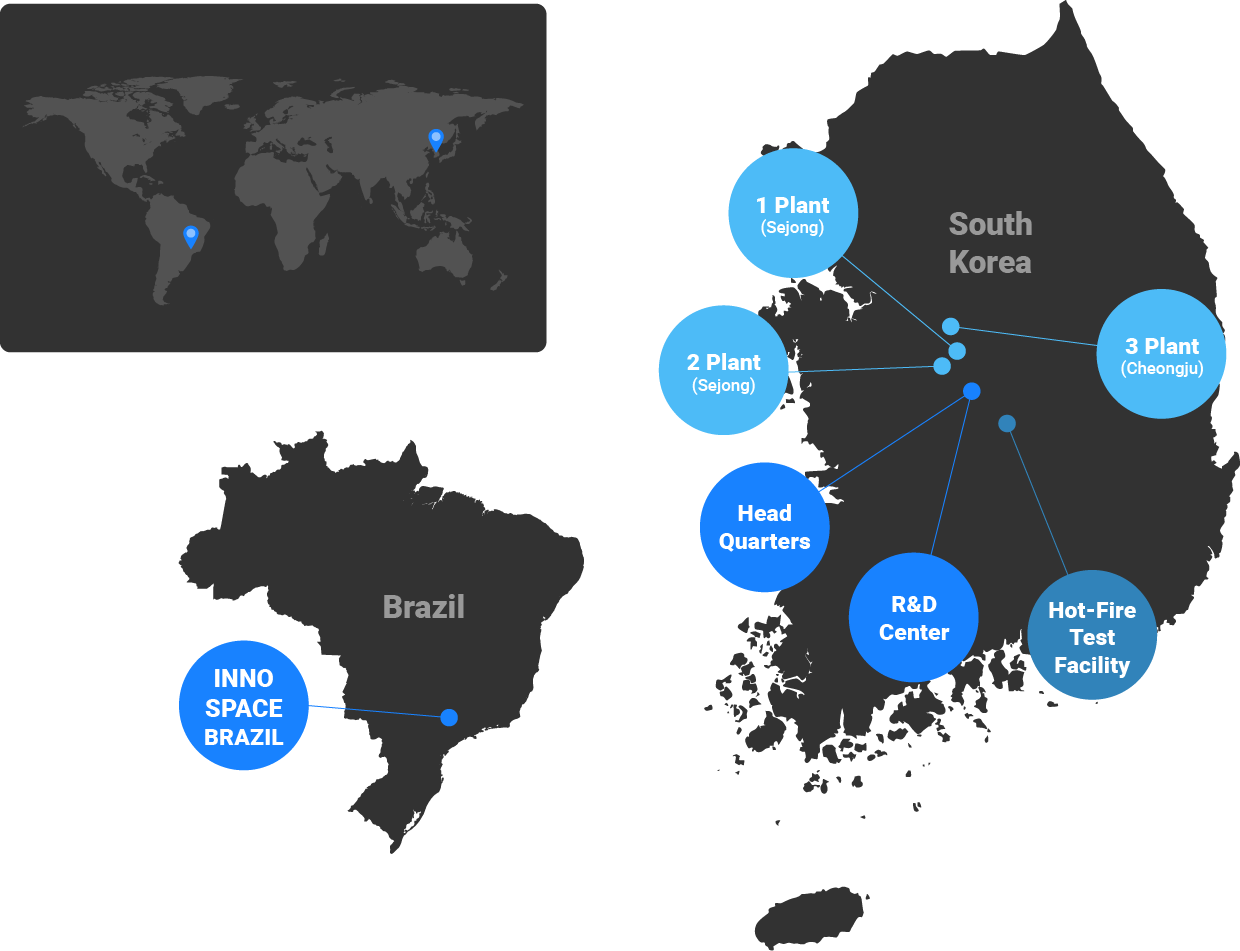 HEADQUARTERS
INNOSPACE is headquartered at Sejong City, the de facto administrative capital of South Korea. Strategically located, INNOSPACE is within approximately two and a half hours drive away from Seoul and most major cities of South Korea. The Aerospace Research & Development Center and the management team is located at the HQ.
PLANT 1 (SEJONG)
Plant 1 is an advanced manufacturing and R&D center for our rocket hybrid fuel grain.
PLANT 2 (SEJONG)
Plant2 is a manufacturing and R&D facility for the launch vehicle's thrusters & elecpumps
PLANT 3 (CHEONGJU)
This plant is the integration hanger for launch vehicles that can handle assembly of multiple launch vehicles at the same time.
HOT-FIRE TEST FACILITY
Located at Geumsan, an hour's drive away from the HQ, the Hot-fire Test Facility is positioned in a beautiful mountain cleft that is 1.5 km from human habitation in all directions.
ㆍ

Isolated & secure operation control

ㆍ

2 conference rooms.

ㆍ

5ton LOx tank & supply system (mass flow rate - 33kg/sec)

ㆍ

2 Test beds (100kN & 200kN) within blast resistant concrete shed

ㆍ

5ton hoist crane

ㆍ

CCTV & Data Acquisition & Control System (DAQC)

ㆍ

Fire protection sprinkler systems
INNOSPACE BRAZIL
INNOSPACE DO BRASIL EIRELI is a wholly-owned INNOSPACE subsidiary in located in São José dos Campos, Sao Paulo, Brazil. INNOSPACE Brazil will manage the launch operations at Alcantara Space Center.